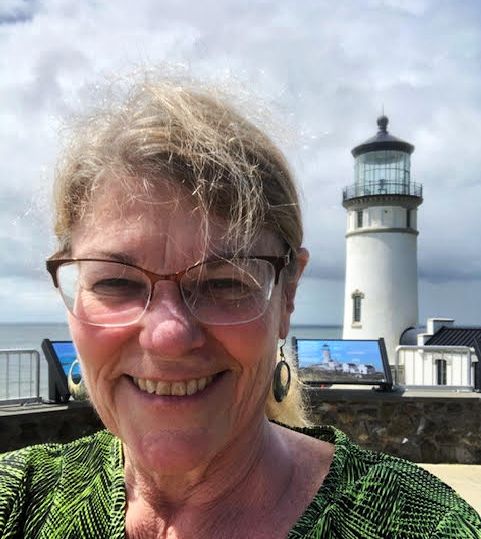 Jan Bono is one of our most popular presenters at WordFest, her readings marked by her characteristic humor, verve and vivacity. Jan has lived on the SW Washington coast, just steps from Willapa Bay, since 1977. Oyster Spat is the fifth in her Sylvia Avery Mystery series. The Chicken Soup for the Soul series has published over 40 of her stories, putting her in their top five contributors world-wide. You can visit her at www.JanBonoBooks.com.
---
About the Book
The feud between Shallowwater Bay oystermen Brent Booi and Tom Diamond is decades old. Environmental issues, tideland ownership, and burrowing shrimp control are only a part of their ongoing disputes which escalate as time goes on.
When recent UW Marine Biologist grad Nautika Henry arrives, she enlists Sylvia Avery to help her find out what really happened to her missing father, while also working to save the oyster fishery from extinction.
Sylvia and Nautika uncover many long-standing secrets in the tiny burg of Willoopah. But must someone die before all the fences can be mended?
---
Your Sylvia Avery books are cozy mysteries. How would you describe this genre?
A cozy mystery contains no graphic violence, no obscene language, and no explicit sex scenes. It has an amateur sleuth who works with the police department in a small town, a quirky cast of characters, and plenty of humor. Cozies are light reading, lots of fun, and won't disturb your sleep. Primarily for women, my mysteries have a surprisingly strong male following as well
Oyster Spat is the fifth book in the series. What's the significance of the title?
Like all my titles, it's a double entendre. A spat is a disagreement between people—in this case, two oystermen—and spat is also the tiny oyster seed that has set on an oyster shell ready to mature into a harvestable bivalve mollusk.
How has Sylvia developed over the course of writing these books?
The first five books all take place within a single year. I didn't want my characters to age too much between books, so Sylvia hasn't aged at all, and as far as how she has developed, I like to think she will forever be a cross between I Love Lucy and one of Charlie's Angels. She's smart, savvy, sexy, and silly all at the same time. In fact, SYLLEE is on her personalized license plate!
Each of your books is set on the SW Washington coast and offers a richly intimate view of the physical environment, the industries, people and culture around the Long Beach-Ilwaco area. In this book, you focus on the oyster industry. How did you gain knowledge about oysters and oystermen?
I am not a fan of raw oysters, and even the fried ones are not something I would willingly order. Smoked, on crackers, are just great, but that's as far as my knowledge went until I dove into this book.
I've lived here almost 43 years, teaching history for the first 30 of those years, and learned much about the area through my own teaching, but I had no idea just how much I didn't know until I started doing research for Oyster Spat.
I started by reading a very thick folder of local newspaper articles that I'd been saving. I also watched 7 short documentaries by Stony Point Pictures on oyster farming. Keith A. Cox, a former student of mine, was behind the documentation of this important native industry, and he did a fine job! Then I wrote pages of questions in order to interview another former student who, along with her husband, is now heading up the family oyster farm. I learned so much in the months I spent researching! For example, oysters are alive when you eat them raw. Dead oysters contain bacteria that are dangerous to humans–Did I mention that I don't like raw oysters?
As a lifelong teacher as well as learner, I worked a great deal of that factual information into the book.
You are incredibly prolific, completing on average a new mystery each year. What is your writing process?
My books are calendar-driven. In January, I read whatever I've stashed into my folders on the main topic of the book and do whatever research I think I'll need to sound like an expert. (Laughs) Then in February, I write a very thorough synopsis. In books 1-4, my synopses were about 22-24 single spaced pages. But in this book, I wrote a whopping 42-page summary to guide me through the chapters when I finally sat down to write. Normally, I start the actual writing sometime in March, but this year I had knee surgery, and I waited until I was off pain meds during the day to begin writing in earnest, so my first day at the keyboard was April 15. On June 1st, I was satisfied that most of the 71,000 words I'd written were pretty good. The synopsis makes the writing move right along, and you always know what's coming next. Then I send it to 4 or 5 friends to proofread and critique. And after fixing the boo-boos, it goes to one more friend, a woman who is AMAZING, and she catches another 15-20 things the first five readers never found.
While they're all reading the drafts, I'm writing the end pages, the back of the book blurb, taking a photo for the cover, and the author's photo, and doing all the formatting. The printer takes about a month. In August I rest! Then for three months in the fall I sell my books at holiday bazaars and craft fairs. I take a December breather, and start all over again in January!
Do you ever diverge from your original outline?
Well, my characters always get the last word, and I have changed the ending of two of the books pretty dramatically from what I thought was going to happen, and even as to who "dunnit!"
How far out do you plan your series?
Originally, I planned 8 books. Then I thought this one, number five, just might be "it." But my readers screamed bloody murder, so I started thinking "What if…." and now there's going to be a sixth for sure, and after that, well…we'll see.
What's up next for Sylvia?
Without giving anything away, Sylvia is going to be spending some time in Maui early in Book 6. I love Lahaina, and know it well, and I thought maybe she might find something interesting to do there, too. But rest assured, the bulk of the book, the mystery itself, is right back here on the Long Beach Peninsula, and she'll be in the thick of getting it solved. Hint: I'm pretty sure someone she loves is going to be kidnapped.
How has this time of Covid-19 changed your marketing and sales of your books? Any marketing tips for other authors?
What a nightmare this virus is! My usual "Book Release Party" would be at a coffee shop, but not this year. I used the Peninsula Senior Center's hallway to literally "channel" the readers in one door, past the book table, and out the other end so that we could maintain social distancing. And of course, we all wore masks.
Right now I'm looking into other similar venues, like the covered porch at an ice cream shop, and perhaps an open-air carport
The worst part is that this year most of my holiday bazaars and craft fairs are cancelled. Right now, there's only two events on my calendar instead of 10 or 12, and those two will also be cancelled if their counties aren't in Phase 4 by then.
I'm hoping to get some buzz going and maybe hook up with some local artists and participate in an art walk or studio tour. No doubt about it, this year will be tough to make ends meet. I printed 300 copies of Oyster Spat, but I also have about 200 of each of the first four mysteries, so I'm looking at 1100 books to move, and that's not counting the first 8 story collections I wrote!
So, how can readers purchase copies of Oyster Spat and your other books in the series?
My website is www.JanBonoBooks.com , and I almost always get orders mailed out in a day or two. If you're in the Long Beach area, give me a call, and I'll meet you personally in most any open-air area. Someone once thought I was dealing drugs in the grocery store parking lot (Laughs) but I ended up using that idea in my book, so all's well that ends well!
You can watch Jan's November 2018 KLTV Book Chat interview here.