Last weekend our family gathered at the lake to learn the gender of our newest incoming member--due to arrive in February 2015.


My nephew Ryan and his wife Jen had delivered the sealed envelope with the ultrasound results--unseen by them--to my other niece-in-law, Robyn, who was the only one to know the sex of the new baby.
(This is the same niece-in-law Robyn who begins books by reading the last chapter to see how they end, so Ryan and Jen clearly recognized that Robyn couldn't possibly wait another 4-1/2 months to learn the baby's gender.)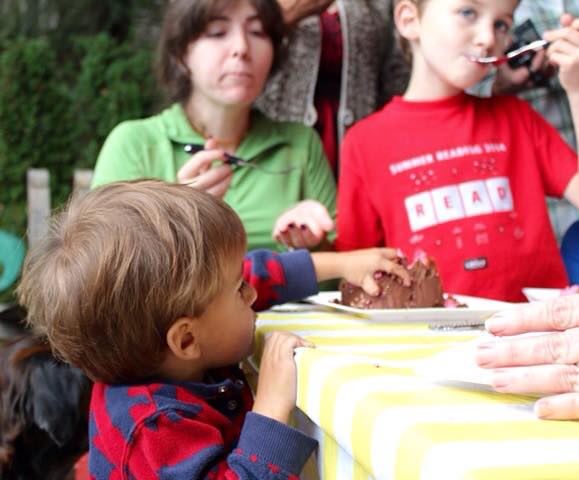 With the special knowledge Robyn alone possessed, they asked her to bake a cake for the family gathering that would reveal whether it was going to be a little boy or little girl.


On Saturday, with everyone hovering around watching, Jen cut the mystery cake, revealing...a pink center!


So, it's a girl--Unless Robyn was making a statement against traditional sex role stereotyping.


The family then celebrated by consuming the cake. Twenty-two-month old Kelvin took a fistful of cake, unaware of its symbolism and significance for his future role as big brother.


His life is about to change. He and gentle dog Zelda will need to make space for a new addition in the hearts of Ryan and Jen.


Fortunately, there's ample room.
 [First posted: October 20, 2014]